Our Company will remain close from December 27  to  January 2
We wish you Marry Christmas & Happy New Year !
Comex is the only company in the field of orthotic technical access of kinetic differential gait
foot scanning, personalized foot applications measurements and insole fabrication that is
consisted of one of the best scientific and technical team.
* Specialized Scientific team.
* Insole making workshop headed by a podiatrist, with extensive experience and studies on the subject, that you able to contact directly and be consulted by. Scientific experience since 2002 on the electronic systems of pedestrians and gait kinetic analysis with an exclusive technical consultant at your disposal.
* Specialized sales consultant
* After sales customer service for anything that has to do with insoles fabrication and
* Foot scanner treadmills.
Comex has been founded in 2002 and offers in the Greek market integrated Foot Pressure Analysis Systems, Orthotics manufacturing systems. The Foot Pressure Analysis System is an assessment, diagnosis, prevention, and treatment system foe lower extremity and myoskeletal conditions and kinetic analysis during walking.
The Comex modern Foot Pressure Analysis System record and analyze motion patterns during walking, create 2D and 3D graphs and identify the anatomic variations and disorders of the lower extremities.
Based on the accurate data provided by analysis performed with the Foot Pressure Analysis System, our company provides special custom made orthopedic or orthotic insoles, using the Comex system. The company is staffed by specialists with a broad international education in the field of lower extremities treatment possessing the know-how required for the study of a Foot Pressure Analysis and the correct manufacture of the insole. Our company holds top position in orthotics market, as we use the top-quality materials baring the CE marking, and specialized know-how.
Comex is the valuable partner for any Orthopedist, Physiatrist, Rheumatologist, Diabetologist, Physiotherapist, Podologist, and many other specialties providing Foot Pressure Analysis, orthopedic footwear, orthotics and lower extremity braces, and valuable research in the field of motion analysis during walking.
More than 250 authorized partners.
Our network of authorized partners, using the Comex modern Foot Pressure Analysis System is constantly extending to include surgeries and physiotherapy clinics around Greece, serving even the remotest of areas, with the help of technology. Our scientific collaborators use the the Comex modern Foot Pressure Analysis System in University research programs both in Greece and abroad.
All above activities allow the company to develop and extend its business activities to include new object and services, quite innovative for the Greek market.
We manufacture custom insoles according to the type of your foot, your activity (athletic and not) and the problem we want to face.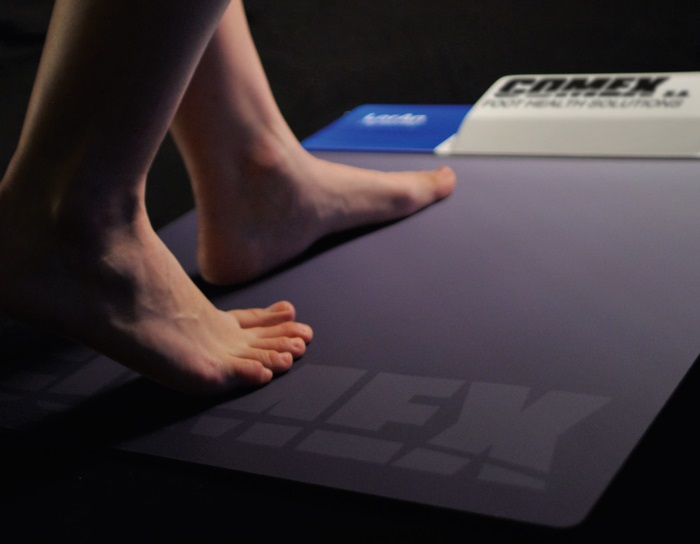 Providing our partners with the electronic means (Pediatricians and Motion Sensors), we offer valuable assistance in every field (Orthopedist, Physiatrist, Rheumatologist, Diabetologist, Podiatrist-Foot Therapist, physiotherapist and Chiropractor) in order to have the most effective diagnosis and treatment of their patients.
This success comes from the many years and specialized experience of doctors and the scientific team of COMEX HEALTH SOLUTIONS.